Scienscope Visual Inspection Line
Some say modern optics began in ancient Greece, where Euclid worked out the geometry of lenses. By the 15th century, compound lenses gave us better microscopes, better telescopes—and led Galileo to be labeled a heretic for what he saw.  Today, we have it easy. We have Scienscope.
Scienscope 4K SmartCam-Ultra with Autofocus



Simply put: This is the most advanced Scienscope inspection camera to date. Put vivid image on a live monitor with up to 4K resolution. Get 8.2-megapixel images over USB 3.0 or WiFi. Access a host of onboard image processing and measurement tools with a simple mouse—and enjoy all the connectivity features you'd expect with a modern, intuitive interface.
 
Using WiFi or USB 3.0

Measure and annotate using included software

Image and video capture using included software or your Microsoft Windows camera app

Export measurement data

Email or print images directly from the camera
Using HDMI

Live measurement and annotation tools

Image and video capture to SD card or USB flash drive

Split-screen live image and captured images for real-time comparison

Access onboard image and video gallery for review

Export measurement data to SD card or USB flash drive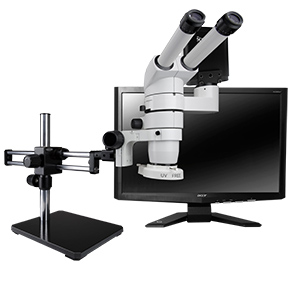 Parallel Stereo Zoom Microscope | CMO-PK12-E1
E-Series 20° Binocular Head with 10x Eyepieces (Pair)

1:6 Zoom Body (0.8x-5x)

0.5x Achromatic objective lens

Quadrant compact LED ring light (IL-LED-E1Q)

76mm focus mount, and dual arm boom stand

0.4x video coupler and beam splitter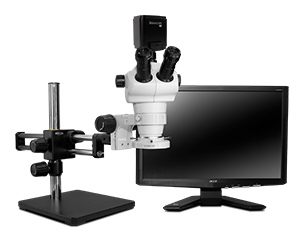 Trinocular Microscope | NZ-PK12-E1
NZ stereo zoom TRUE trinocular head

10x eyepieces and eye guards

Dual arm boom stand with 76mm e-arm

0.5x auxiliary lens, 0.4x video coupler

Quadrant compact LED ring light. (IL-LED-E1Q)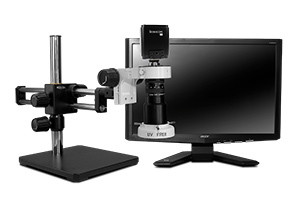 Macro Zoom Inspection System | MAC-PK5D-4KSC-E2D-AF
MACRO video zoom optics (up to 65x magnification with 8" working distance)

Dual arm boom stand

Diffused compact LED ring light (IL-LED-E2D)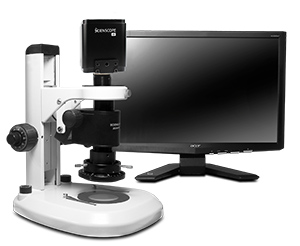 Micro Zoom Inspection System | MZ7A-PK2-4KSC-AF
MZ7A Micro-Zoom video zoom optics

0.5x video coupler, zoom body

Dual illuminated LED track stand

Course and fine focus with NEW diffused LED ring light (IL-LED-E2D)
SZ-Series


| | | |
| --- | --- | --- |
| Manuf Part Number | TestEquity Part Number | Description |
| SZ-PK3FX-E1 | 696IN0053 | Scienscope SSZ Binocular System HD Articulating Arm E1 LED |
| SZ-PK5D-E1 | 696IN0051 | Scienscope Stereo Zoom Binocular Microscope w/ LED Ring |
| SZ-PK10-E1 | 696IN984 | Scienscope Trinocular Micro-Scope Dual Arm w/ LED Ring |

NZ-Series


| | | |
| --- | --- | --- |
| Manuf Part Number | TestEquity Part Number | Description |
| NZ-PK3FX-E1 | 10000233 | Scienscope NZ-PK3FX-E1 NZ Series Stereo Zoom Binocular Microscope with Heavy Duty Articulating Arm and Compact LED Ring Light |
| NZ-PK5D-E1 | 696IN7963 | Scienscope NZ Stereo Zoom Binocular System |
| NZ-PK10-E1 | 696IN5210 | Scienscope NZ Trinocular System Dual Arm E1 LED Ring |