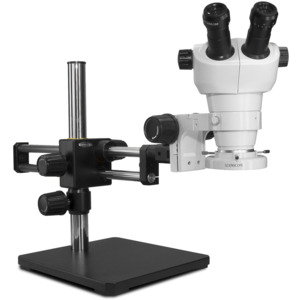 | Qty: | Price: | Savings |
| --- | --- | --- |
| 1 | $1,724.22 | |
| 2 | $1,638.01 | Save 5% |
| 3 | $1,603.52 | Save 7% |
| 5 | $1,586.28 | Save 8% |
Description

Specifications

Documents
Precision Optics
Medical Device Standard
Maintenance Free
Sealed Body
The NZ Stereo Zoom Binocular Microscope is designed for all industrial, electronic, and medical manufacturing applications. It boasts a new, rugged, air and moisture tight housing, and unbreakable eyepiece ports. It is perfect for the rigors of the assembly line or any harsh manufacturing environment. This also makes the NZ virtually maintenance free.

With the NZ series you will be able to view or inspect your work with unequaled clarity and know that the durability of the microscope will never be compromised. With a wide variety of Eyepieces, Focus Mount, Stand, Illumination, and auxiliary lens accessories, you will be able to find the perfect system to meet your needs.

5 Year warranty on binocular head, 1 Year warranty on mechanical and electrical components.

Field of View: 
27.5mm - 4.4mm
Includes: 
NZ Stereo Zoom Binocular Body, 10x Eyepieces, Dual Arm Boom Stand w/76mm E-Arm, 0.5x Auxillary Lens, Quadrant Compact LED Ring Light
Type: 
Binocular Stereo Zoom Microscope
Lens: 
0.5x Auxiliary Lens
Type of Base: 
Dual Arm Boom Stand
Type of Illumination: 
Quadrant Compact LED Ring Light
| Qty: | Price: | Savings |
| --- | --- | --- |
| 1 | $1,724.22 | |
| 2 | $1,638.01 | Save 5% |
| 3 | $1,603.52 | Save 7% |
| 5 | $1,586.28 | Save 8% |