TestEquity is the industry's largest authorized distributor of test and measurement solutions and production supplies. We stock the most solutions to help you design and build electronics. We understand highly-specialized technology demands highly-personalized service. Together, let's put innovation to the test.
Download Resources Now


---
About Us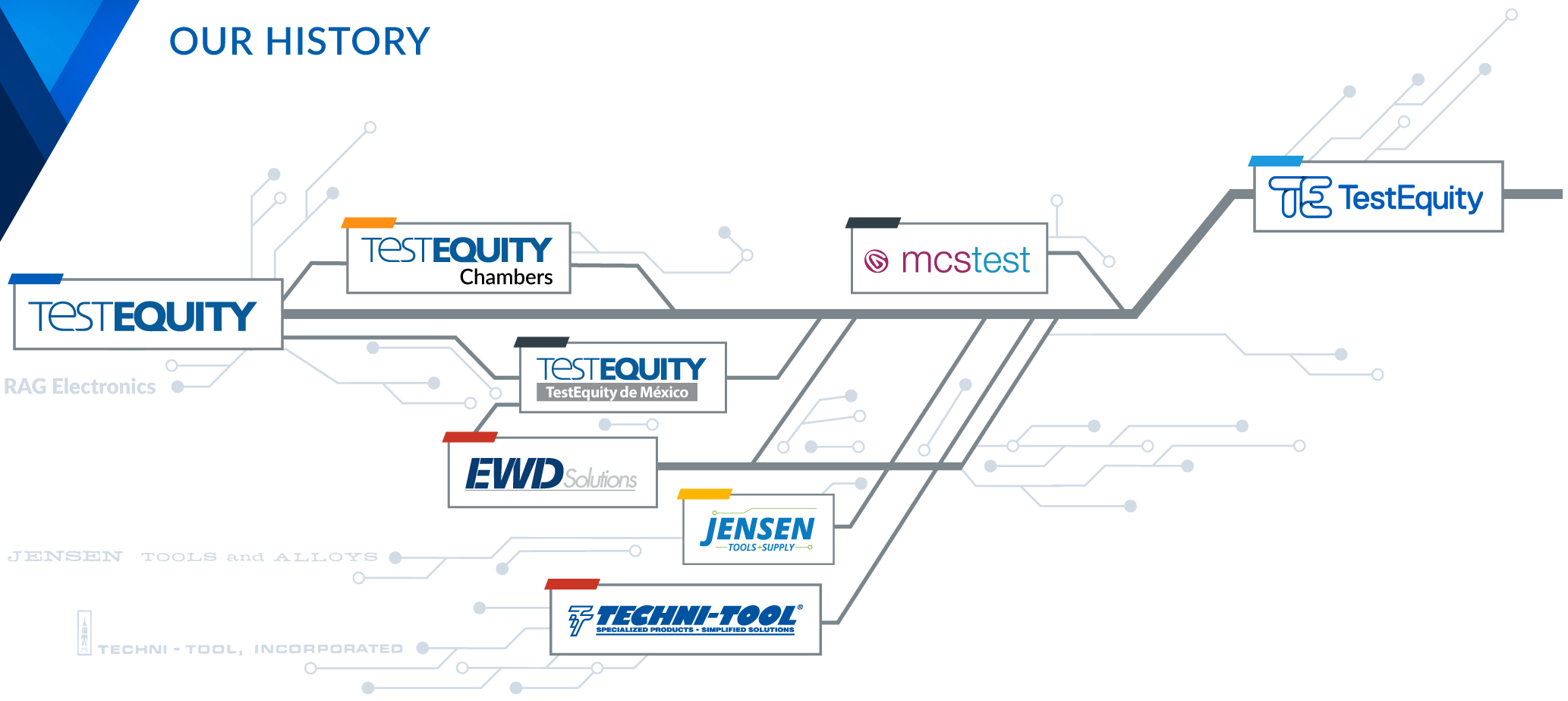 TestEquity - The Most Testing Solutions


Founded in 1971, TestEquity is the largest, most comprehensive provider of test solutions in the U.S. proudly supporting the aerospace, defense, automotive, electronics, education, and medical industries. From our early beginnings, we've been passionate about test equipment that ensures quality electronic products. It's about having real experts with real product knowledge. So, you can perform without interruption. Because we don't believe in tuning out. We believe in tuning in. Discovering new technologies to push us forward. And remembering technological classics that defined our industries. We want connect your brilliant designs with most testing solutions. So that you can feel pride in the engineering process. And know every single feature is accurately built. Defining the unknown. Service, precision, and accuracy is the soul to our mission. We are TestEquity. We don't want you to just design and test. We want you to experience the difference.
We also design a full line of the industry's highest-quality environmental test chambers. Designed by engineers, for engineers. We believe accuracy and precision are wildly important. We're engineers too and expect reliable results, every time. We're fueled by a legacy of expertise and excellence in helping customers solve tough technical challenges to speed product time to market. This dedication to customer service has allowed us to continuously provide masterfully engineered test chambers with many unique features and services you won't find anywhere else. Call, email, or connect with us. We enjoy talking about testing solutions.
TestEquity is the corporate entity to Techni-Tool and Jensen featuring more than 80,000 products from over 1,000 manufacturer brands. Join us on our journey to learn about our legacy.
Techni-Tool - Everything for Electronic Production


Techni-Tool is the industry's largest solder, soldering equipment and electronic production distributor. Since 1959, you can be guaranteed we have the widest range of products you need to support electronic production as well as compliance testing.
We have long been known for excellent service. For having the production supplies that meet critical needs. Inventory. Real experts with real product knowledge so you can perform without interruption. We are continually updated and trained on products and services to guarantee expertise. Plus, orders ship same day. Build the lab and begin production now - with confidence -because you know you'll finish with results you trust.
With decades of serving the needs of small production facilities to the world's largest companies, we're experts. Never resting on our laurels. You need help, we roll up our sleeves. Even from our humble beginnings selling dental products, our mission has always been to serve the needs of our customer. Today we are most well known for having more types of tweezers and solder equipment than any other company. We're actually the only company to carry four solder lines at the same time: Metcal, Weller, Pace, and Hakko.
We are the answer to your electronic production needs. It's the Techni-Tool difference. Explore and discover why you get more with Techni-Tool.
Jensen - Toolkits that work as hard as you do


Jensen offers meticulously crafted professional tool kitting solutions ensuring each one is accurately routed for best fit, form, and function with sturdy innovative case design. You can be assured quality and accuracy with over 60 years of experience.
Jensen Tools has a legacy of experience and expertise. From our early beginnings as Stanley Black & Decker to the acquisition of EWD (Electro-Wise Dallas) and back to our roots with the brand name as Jensen Tools and Supply, we proudly provide the industry's best-in-class hand tools and custom tool kit solutions. Jensen is an industry leader in providing cutting edge tool kits for technicians in several low voltage electronics trades and telecom.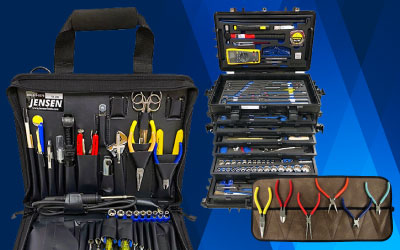 We know that your business is to manufacture, service and repair. It is our business to make sure you are equipped with the right tools and supplies. We offer hundreds of JENSEN® branded hand tools which have been perfected over years of customer usage and manufactured to a demanding tolerance.
Tool still in use after 55 years. Customer replacement request (4/13/21):
"My name is Paul. I purchased this toolset while employed at Teledyne Geotech Division in 1966. The tool broke during normal use. Photos provided to document issue."
We believe JENSEN® tools are the best hand tool value in the industry. Our tool kitting expertise is unmatched in our industry. We are proud to employ a dedicated team of engineering, operational and sales professionals who focus on designing and building the perfect tool kit for our customers. Whether you are outfitting service engineers, field repair techs, or a fleet of Boeing® 787's, JENSEN® has years of experience and highly customizable options for tools, instruments, and cases to serve your unique needs. Give us an opportunity to prove that we are the best in the business at tool kitting!
---
Explore More Resources