Kester High-Reliability Products
Recently, manufacturers in the Electronic Assembly industry have expressed concern over no-clean flux residue and its influence on reliability. This concern has been heightened by miniaturization simultaneous with high-density board design trends.


Featured Products: In Stock Now!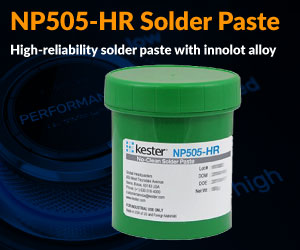 Kester NP505-HR Solder Paste for High-Reliability Applications

Kester NP505-HR is formulated to offer flexibility across a wide variety of printer processing conditions and long idle times and broad range of temperatures and humidities. This paste is fully capable of printing and reflowing 01005 components in air reflow while offering consistency across slow and fast print speeds to maximize process yields.
Kester NP505-HR is a zero-halogen, no-clean solder paste compatible with the industry leading high reliability Innolot alloy as well as applications requiring traditional SAC305.
NP505-HR Solder Paste
| | | | |
| --- | --- | --- | --- |
| Part Number | Description | Category | |
| 10039645 | Zero-Halogen, No Clean, Lead Free, Innolot T4, 500g, Jar | Solder Paste | View Product |
| 10143188 | Zero-Halogen, No Clean, Lead Free, Innolot T4, 600g, Cartridge | Solder Paste | View Product |
| 490-295 | Zero-Halogen, No Clean, Lead Free, Sn96.5Ag3Cu.5, T3, 600g, Cartridge | Solder Paste | View Product |
| 490-431 | Zero-Halogen, No Clean, Lead-Free, Sn96.5Ag3Cu.5, T3, 88.5% 500g, Jar | Solder Paste | View Product |
| 488SO5055 | Zero-Halogen, No Clean, Lead Free, Sn96.5Ag3Cu.5, T4, 88.5 %, 500g, Jar | Solder Paste | View Product |
| 488SO5056 | Zero-Halogen, No Clean, Lead Free, Sn96.5Ag3Cu.5, T4, 88.5 %, 600g, Cartridge | Solder Paste | View Product |
| 10020365 | Zero-Halogen, No Clean, Lead Free, Sn96.5Ag3Cu.5, T5, 88%, 500g, Jar | Solder Paste | View Product |
| 10020366 | Zero-Halogen, No Clean, Lead Free, Sn96.5Ag3Cu.5, T5, 88%, 600g, Cartridge | Solder Paste | View Product |
---
275 Flux-Cored Wire
| | | |
| --- | --- | --- |
| Part Number | Description | Category |
| 488SO7604 | No Clean, Leaded, Sn63Pb37, 1.1%, 0.015 in (0.40 mm), 275 Series | Solder wire |
| 488SO2753 | No Clean, Leaded, Sn63Pb37, 1.1%, 0.020 in (0.50 mm), 275 Series | Solder wire |
| Sac305 products | | |
| 10020328 | No Clean, Lead Free, Sn96.5Ag03Cu.5, 1.1%, 0.025 in (0.60 mm), 275 Series | Solder wire |
| 488SO7871 | No Clean, Lead Free, Sn96.5Ag03Cu.5, 2.2%, 0.031 in (0.80 mm), 275 Series | Solder wire |
| 488SO7863 | No Clean, Lead Free, Sn96.5Ag03Cu.5, 2.2%, 0.020 in (0.50 mm), 275 Series | Solder wire |
| 488WA037 | No Clean, Lead Free, Sn96.5Ag03Cu.5, 2.2%, 0.040 in (1.00 mm), 275 Series | Solder wire |
| 488SO7866 | No Clean, Lead Free, Sn96.5Ag03Cu.5, 2.2%, 0.050 in (1.27 mm), 275 Series | Solder wire |
| 488SO7867 | No Clean, Lead Free, Sn96.5Ag03Cu.5, 2.2%, 0.062 in (1.50 mm), 275 Series | Solder wire |
| 488SO6808 | No Clean, Lead Free, Sn96.5Ag03Cu.5, 2.2%, 0.015 in (0.40 mm), 275 Series | Solder wire |
| 488SO7609 | No Clean, Lead Free, Sn96.5Ag03Cu.5, 3.3%, 0.015 in (0.40 mm), 275 Series | Solder wire |
| 435-530 | No Clean, Lead Free, Sn96.5Ag03Cu.5, 3.3%, 0.020 in (0.50 mm), 275 Series | Solder wire |
| 441-830 | No Clean, Lead Free, Sn96.5Ag03Cu.5, 3.3%, 0.062 1 LB Spool, 275 Series | Solder wire |
| 488SO617 | No Clean, Lead Free, Sn96.5Ag03Cu.5, 2.2%, 0.025 in (0.60 mm), 275 Series | Solder wire |
| 488WA012 | No Clean, Lead Free, Sn96.5Ag03Cu.5, 3.3%, 0.031 in (0.80 mm), 275 Series | Solder wire |
| 488WA020 | No Clean, Lead Free, Sn96.5Ag03Cu.5, 3.3%, 0.025 in (0.60 mm), 275 Series | Solder wire |
| 488SO7623 | No Clean, Lead Free, Sn96.5Ag03Cu.5, 2.2%, 0.010 in (0.25 mm), 275 Series | Solder wire |
| K100ld products | | |
| 488SO1315 | No Clean, Lead Free, K100LD, 3.3%, 0.015 in (0.40 mm), 275 Series | Solder wire |
| 488SO1320 | No Clean, Lead Free, K100LD, 3.3%, 0.020 in (0.50 mm), 275 Series | Solder wire |
| 488SO1350 | No Clean, Lead Free, K100LD, 3.3%, 0.050 in (1.27 mm), 275 Series | Solder wire |
| 488SO1362 | No Clean, Lead Free, K100LD, 3.3%, 0.062 in (1.50 mm), 275 Series | Solder wire |
| 488SO1331 | No Clean, Lead Free, K100LD, 3.3%, 0.031 in (0.80 mm), 275 Series | Solder wire |
| 488SO1325 | No Clean, Lead Free, K100LD, 3.3%, 0.025 in (0.60 mm), 275 Series | Solder wire |
| 488SO1310 | No Clean, Lead Free, K100LD, 3.3%, 0.010 in (0.25 mm), 275 Series | Solder wire |
NF372-TB Soldering Flux
| | | |
| --- | --- | --- |
| Part Number | Description | Category |
| 488CH0372 | NF372-TB 1 Gallon Halide Free Soldering Flux | Solder Flux |
| 488CH372 | Flux Pen, Zero Halogen, No Clean | Solder Flux |
| 488CH0373 | Xero Halogen, Low Solids, No Clean, Liquid, 5 Gal | Solder Flux |
| 488CH0374 | Xero Halogen, Low Solids, No Clean, Liquid, 53 Gal | Solder Flux |
| 10061048 | No Clean, Lead Free, Sn63Pb37 T4 89.3% 600g CRT | Solder Flux |
SELECT-10 Selective Soldering Flux
| | | |
| --- | --- | --- |
| Part Number | Description | Category |
| 488SO811 | SELECT-10™ Selective Solder Flux, 1 gal. | Flux |
| 484-718 | SELECT-10™ Selective Solder Flux, 5 gal. | Flux |
| 489-933 | FLUX-PEN® Selective Solder No-Clean | Flux Pen |
RF550 Rework Flux
| | | |
| --- | --- | --- |
| Part Number | Description | Category |
| 488SO550 | RF550 Rework No Clean Flux, 30g Syringe | Flux |