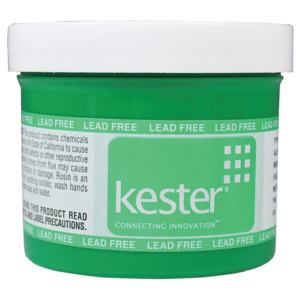 Estimated Mfr lead time:
16 Days
| Qty: | Price: | Savings |
| --- | --- | --- |
| 1 | $153.00 | |
| 10 | $140.76 | Save 8% |
| 25 | $134.64 | Save 12% |
| 50 | $130.05 | Save 15% |
Next Day Air Only
Calif. Prop 65
Description

Specifications

Documents
High Reliability

Classified as type ROL0 per IPC J-STD-004B

Zero Halogen (none intentionally added)

Reliable residues in harsh modified SIR testing with forced condensation points

Consistent print performance to 0.55AR

Low QFN/BGA voiding

Excellent solderability across wide variety of profiles

Compatible with most conformal coating materials

Reflowable in air and nitrogen

Kester NP505-HR is a zero-halogen, lead-free, no-clean solder paste formula developed specifically for high reliability applications. NP505-HR has been formulated to have reliable residues even in harsh damp cycling SIR testing. NP505-HR can handle a wide variety of printer variables, including print speed and long idle times with a wide range of temperatures and humidities. NP505-HR is fully capable of printing and reflowing 01005 components in air reflow with minimal graping behavior. Post-soldering, the NP505-HR offers minimized defects, including head-in-pillow and QFN/BGA voiding. This paste is zero-halogen, exceeding the IPC definition for halogen-free. NP505-HR is classified as ROL0 per IPC J-STD-004B. NP505-HR is part of Kester's high reliability product line and compatible with no-clean RF550 Rework Flux, NF372-TB Solder Flux and SELECT-10™ Selective Soldering Flux.
Designed to Handle a Wide Variety of Printer Variables

Alternate Product Number: 
SAC305
Features: 
Type 4 mesh size is recommended for standard and fine pitch applications.
Halogen Content: 
Halogen Free
Estimated Mfr lead time:
16 Days
| Qty: | Price: | Savings |
| --- | --- | --- |
| 1 | $153.00 | |
| 10 | $140.76 | Save 8% |
| 25 | $134.64 | Save 12% |
| 50 | $130.05 | Save 15% |