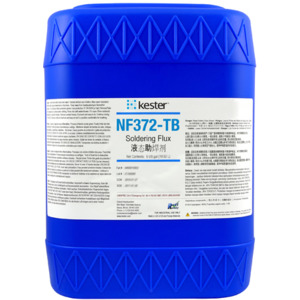 Estimated Mfr lead time:
28 Days
| Qty: | Price: | Savings |
| --- | --- | --- |
| 1 | $322.80 | |
| 5 | $290.52 | Save 10% |
| 10 | $274.38 | Save 15% |
| 20 | $258.24 | Save 20% |
Description

Specifications

Documents
Zero-Halogen (none intentionally added)
Provides good solderability under air atmosphere
Classified ROL0 per IPC J-STD-004B
Non-corrosive, non-conductive and non-tacky residues
Pass SIR in raw state (unheated boards dried at 25C/50%RH for 24 hours before test)
Compliant to GR-78-CORE (Telcordia/Bellcore)
Ability to provide desired hole-fill with preheat temperatures up to 140C max
Safe for rework (available in flux-pens)
Kester NF372-TB is a zero-halogen, no-clean, low solids liquid flux designed to be used in wave and hand soldering processes. It can be used with both leaded and lead-free alloys. One of its best features is the ability to withstand long dwell times and high preheat temperatures needed in thick board assemblies. Sustained activity within the flux allows for good barrel fill in challenging applications, such as reflowed copper OSP boards or with difficult to solder components. NF372-TB residues are minimal, clear and non-tacky for improved cosmetics. NF372-TB is classified as ROL0 flux under IPC J-STD-004B.

For Use With: 
Wave and Hand Soldering
Estimated Mfr lead time:
28 Days
| Qty: | Price: | Savings |
| --- | --- | --- |
| 1 | $322.80 | |
| 5 | $290.52 | Save 10% |
| 10 | $274.38 | Save 15% |
| 20 | $258.24 | Save 20% |