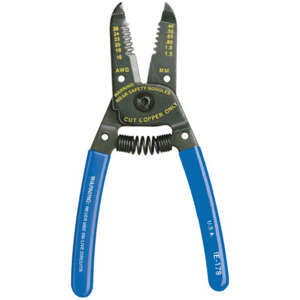 | Qty: | Price: | Savings |
| --- | --- | --- |
| 1 | $11.47 | |
| 20 | $11.24 | Save 2% |
| 50 | $10.90 | Save 5% |
| 100 | $10.32 | Save 10% |
Description

Specifications

Documents
Our products under the brands Techni-Tool, Tec-Cut, Techni-Stat, and many others have merged to one brand, Techni-PRO. All the product specifications and functionality remain the same.
These Techni-Pro Wire Stripper/Cutters have a serrated pliers nose for effective wire pulling and manipulation, especially for small nuts, etc.
AWG and metric wire sizes embossed in steel and pad printed for easy identification.
2-piece hardened steel pivot ensures durability and long-term functionality.
Locking mechanism to protect cutting and stripping edges during storage.
Spring return feature to enhance work efficiency and speed.
Large air-pocket cushion grips designed for maximum comfort during use.
Features:
Grip: Over-molded
Cutter Type: Straight
Bolt Cutter: No
Made in USA
Alternate Product Number: 
IE-178
| Qty: | Price: | Savings |
| --- | --- | --- |
| 1 | $11.47 | |
| 20 | $11.24 | Save 2% |
| 50 | $10.90 | Save 5% |
| 100 | $10.32 | Save 10% |