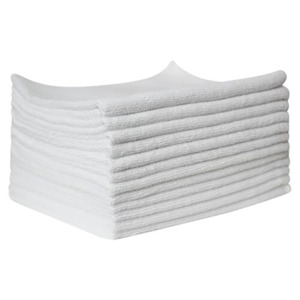 | Qty: | Price: | Savings |
| --- | --- | --- |
| 1 | $26.55 | |
| 10 | $25.75 | Save 3% |
| 20 | $25.22 | Save 5% |
| 50 | $23.90 | Save 10% |
| 100 | $23.36 | Save 12% |
Description

Specifications

Documents
Our products under the brands Techni-Tool, Tec-Cut, Techni-Stat, and many others have merged to one brand, Techni-PRO. All the product specifications and functionality remain the same.
Revolutionary andenvironmentally friendly, these 80% polyester/20% polyamide towels attract dustand dirt like a magnet.
They can be used wet or dry without chemicals for anextremely effective way to clean.
Lint free, streak free and highly absorbent, they are ideal for general purpos, delicate, light or heavy duty cleaning, dusting and washing.
Package Quantity: 
12 Per Pkg.
| Qty: | Price: | Savings |
| --- | --- | --- |
| 1 | $26.55 | |
| 10 | $25.75 | Save 3% |
| 20 | $25.22 | Save 5% |
| 50 | $23.90 | Save 10% |
| 100 | $23.36 | Save 12% |