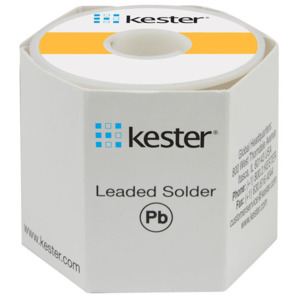 | Qty: | Price: | Savings |
| --- | --- | --- |
| 1 | $55.56 | |
| 5 | $54.45 | Save 2% |
| 10 | $50.12 | Save 10% |
| 25 | $47.28 | Save 15% |
| 100 | $44.00 | Save 21% |
Description

Specifications

Documents
Kester 285 Flux-Cored Wire Product Overview:
Alloy: Sn60Pb40
Kester 285 Mildly Activated Rosin Flux cored wire is classified as Type ROL0 flux under IPC J-STD-004. This flux was formerly classified as Type RMA per QQ-S-571. 285 consists of high quality, purified rosin to which a synergistic combination of activating agents has been incorporated. The fluxing ability of 285 is much greater than ordinary mildly activated rosin fluxes and is comparable to fully activated rosin fluxes. 285 has been developed for use in the electronic industry where difficult assemblies are to be soldered, but process requirements stipulate use of a mildly activated rosin flux.
Performance Characteristics:
Industry Standard RMA cored wire
Compatible with leaded and lead-free alloys
Classified as ROL0 per J-STD-004
RoHS Compliance
This product meets the requirements of the Restriction of Hazardous Substances (RoHS) Directive, 2011/65/UE for the stated banned substances. (Applies only if this core flux is combined with a lead-free alloy).
Cleaning
285 flux residues are non-corrosive, non-conductive and do not require removal in most applications
Diameter: 
0.031 in (0.80 mm)
Composition: 
60/40 (60% Tin, 40% Lead)
| Qty: | Price: | Savings |
| --- | --- | --- |
| 1 | $55.56 | |
| 5 | $54.45 | Save 2% |
| 10 | $50.12 | Save 10% |
| 25 | $47.28 | Save 15% |
| 100 | $44.00 | Save 21% |