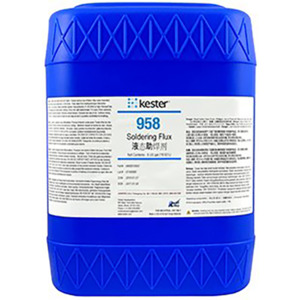 Estimated Mfr lead time:
20 Days
| Qty: | Price: | Savings |
| --- | --- | --- |
| 1 | $87.90 | |
| 5 | $83.51 | Save 5% |
| 10 | $79.11 | Save 10% |
| 25 | $74.72 | Save 15% |
Description

Specifications

Documents
Excellent for bare copper circuit board technology
Compatible with conformal coat processes
Improves soldering performance
Reduced odor associated with soldering process
Eliminates the need and expense of cleaning
Non-corrosive tack-free residues
Classified as ORL0 per J-STD-004
Compliant to Bellcore GR-7
Kester 958 Soldering Flux is a no-clean, non-corrosive, zero-halogen liquid flux that is specifically designed for the wave soldering of conventional and surface mount circuit board assemblies. 958 was developed to give excellent soldering performance on bare copper printed circuit boards treated with OSP coatings. Essentially, no residue remains after soldering. Boards are dry and cosmetically clean as they exit the wave solder machine, thus posing no interference with electrical testing. 958 has excellent compatibility with most conformal coating products on the market today. This comprehensive formulation possesses improved wetting characteristics and also exhibits superior corrosion inhibiting properties and provides a non tacky residue. A major advantage of this flux is the reduced odor associated with the soldering process.

Container Type: 
Gallon Jug
Estimated Mfr lead time:
20 Days
| Qty: | Price: | Savings |
| --- | --- | --- |
| 1 | $87.90 | |
| 5 | $83.51 | Save 5% |
| 10 | $79.11 | Save 10% |
| 25 | $74.72 | Save 15% |