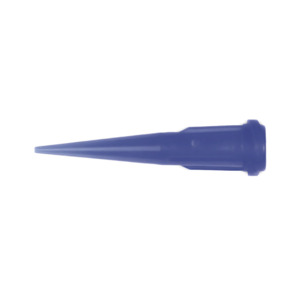 Estimated Mfr lead time:
18 Days
| Qty: | Price: | Savings |
| --- | --- | --- |
| 1 | $74.37 | |
| 5 | $72.88 | Save 2% |
| 10 | $70.65 | Save 5% |
| 20 | $68.42 | Save 8% |
Description

Specifications

Documents
The tapered design of these dispense tips provides a smooth flow for viscous fluids and resists clogging when dispensing particle-filled materials. A higher flow rate allows you to lower air pressure and shorten dispense times, which can help improve yields. Optimum SmoothFlow tapered tips are manufactured with clean, blunt ends to ensure precise, repeatable dispensing.

Rigid, opaque polypropylene-molded tapered dispense tips provide protection for light-sensitive fluids.

Optimum SmoothFlow tapered tips are ideal for dispensing: UV-cure Adhesives, Gel Cyanoacrylates, Solder Paste, Sealants, Epoxies, RTV Silicones, Thick Pastes, And More.

Each tapered tip is manufactured and quality-tested to be free of molding flash – bits of plastic that can block fluid flow and cause inconsistent deposits.

Tip hubs are color coded by size to help identify the gauge or internal diameter. Tips are also packaged in clear boxes for easy inventory control – with lot numbers, part numbers, and other information clearly labeled for greater process control and traceability.

Optimum dispensing tips are manufactured in the USA in silicone-free facilities to prevent fluid contamination and are certified for industrial use.
Package Quantity: 
50 Per Pkg.
Estimated Mfr lead time:
18 Days
| Qty: | Price: | Savings |
| --- | --- | --- |
| 1 | $74.37 | |
| 5 | $72.88 | Save 2% |
| 10 | $70.65 | Save 5% |
| 20 | $68.42 | Save 8% |