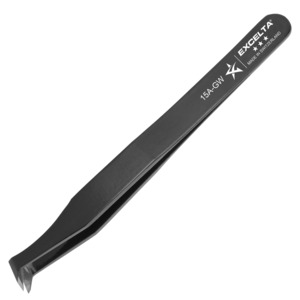 | Qty: | Price: | Savings |
| --- | --- | --- |
| 1 | $106.87 | |
| 5 | $104.73 | Save 2% |
| 10 | $102.60 | Save 4% |
| 30 | $100.46 | Save 6% |
| 50 | $99.60 | Save 7% |
| 100 | $94.05 | Save 12% |
Description

Specifications

Documents
The 15A-GW 70° angulated tip cutting tweezer is ideal for general purpose cutting of soft wire up to 0.010". This tool is considered a tip cutter in that the blades meet most predominately at the tip. All of the force applied to the tweezer gets transferred to the tips.

Handle Type: 
Epoxy Coated Grips
Maximum Cutting Capacity: 
24 AWG
Cutting Capacity Maximum Material Thickness: 
0.01"
Surface Resistivity: 
10⁵-10⁶ Ohms/sq
| Qty: | Price: | Savings |
| --- | --- | --- |
| 1 | $106.87 | |
| 5 | $104.73 | Save 2% |
| 10 | $102.60 | Save 4% |
| 30 | $100.46 | Save 6% |
| 50 | $99.60 | Save 7% |
| 100 | $94.05 | Save 12% |