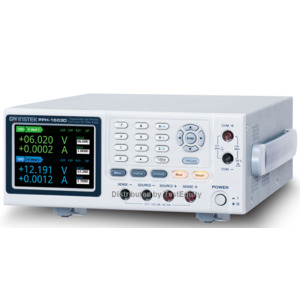 Estimated Mfr lead time:
14 Days
Description

Specifications

Documents
Programmable, Two-Channel High-Precision DC Power
Dual Channel DC Power Output

Ch1: 45W (0 to 15V/0 to 3A or 0 to 9V/0 to 5A)
Ch2: 18W (0 to 12V/0 to 1.5A)

3.5 inch TFT LCD Display
Built-in DVM Measurement Function
High Measurement Resolution (1mV/0.1μA for 5mA Range)
Current Sink Function (Maximum : 3.5A)
Pulse Current measurement (Pulse width min:33ms)
Long Integration Current Measurement
Sequence Function (Sequential power output)
Built-in Battery Simulation Function
OVP, OCP, OTP & Temperature Display for Heat Sink
Support USB (Device& Host)/GPIB/LAN
5 Groups of Save/Recall Setting
External RELAY Control
Two-year warranty
Swift Responses with Accurate Measurement
PPH-1503D programmable high precision dual-channel DC power supply. PPH-1503D's CH1 provides dual operational ranges for voltage and current and its total power output is 45W. The dual operational ranges are 0 to 15V/0 to 3A or 0 to 9V/0 to 5A. CH2 provides 0 to 12V/0 to 1.5A with 18W power output.
PPH-1503D's high precision measurement capability achieves the maximum resolution of 1mV/0.1μA and the smallest pulse current width of 33μs that satisfies measurement application requirements of high resolution and pulse current. The PPH-1503D is equipped with the excellent transient recovery time, which can, in less than 40μs, recover the output voltage to within 100mV of the previous voltage output when the current level changes from 10% to 100% of the full scale. Instek PPH-1503D has a rise time of 0.2ms and a fall time of 0.3ms, which are 100 times faster than that of conventional power supplies. Therefore, PPH-1503D can provide DUT with a stable output voltage even when operating under large transient current output.
PPH-1503 and PPH-1503D Offer Fast Response to Load and Voltage Changes
When DUT such as cellular phone switches to idling, receiving or transmitting mode, the current drawn from power supply changes over tenfold. The sudden current change will cause the supplied voltage to drop as well. The conventional power supply is considered a dull device since it will take several milliseconds for the dropped voltage to return to the original level. PPH-1503 and PPH1503D are designed to simulate battery response when a significant voltage drop occurs. Recovery time of 40μs or less is guaranteed when the maximum voltage drop is within 100mV. Moreover, when users change the voltage level and conventional power supply does not have sufficient speed to reach the set level, PPH-1503/1503D provides rise time of (PPH-1503: 0.15ms/PPH-1503D: 0.2ms) and fall time of (PPH-1503: 0.65ms/PPH-1503D: 0.3ms), which are hundreds times faster than that of the conventional power supplies.
Built-in Digital Voltmeter
The PPH-1503 and PPH-1503D built-in Digital Volt-Meter (DVM) have dedicated input terminal located on the front panel. With the DC voltage measurement range from 0 to +20VDC, there power supplies not only provide power supply for DUT but also measure the voltage on DUT. The read back accuracy reaches (0.05%+3mV) and read back resolution is 1mV. Users are able to save the cost of purchasing an extra voltage meter. Furthermore, DVM measurements can be remotely controlled by SCPI commands via a PC.
PPH-1503 / PPH-1503D Selection Guide

PPH-1503

PPH-1503D
Channels
1
2
Dual Range
Channel 1
0 to 15V/0 to 3A or 0 9V/0 to 5A
0 to 15V/0 to 3A or 0 9V/0 to 5A (45 W)
Channel 2
N/A
0 to 12V/0 to 1.5A (18 W)
Display
3.5 Inch TFT LCD
Current Measurement Range
5A/5mA
5A/500mA/5mA (CH1)
Built-in DVM Measurement Function
Y
Y (Ch. 2)
Built-in Battery Simulation Function
N/A
Y (Ch. 1)
Sequential Power Output
Y
Y (Ch. 1)
High Measurement Resolution
Y (1mV/0.1μA)
Sink Current Function
Y (Max : 2A)
Y (Max : 3.5A)
Sample Rate(Sa/s)
60K
64K
Four Wire Output Open Protection
N/A
Y
Heat sink Temperature Display
N/A
Y
Interface
GPIB
Y
Y
USB
Y (CDC)
Y (TMC)
LAN
Y
Y
Please refer to Data Sheet for complete specifications.
Included with PPH-1503D: User's manual on CD, Quick Start manual, Power cord, Test leads: GTL-117 (10A Maximum), GTL-203A (3A Maximum), GTL-204A (10A Maximum).
Estimated Mfr lead time:
14 Days