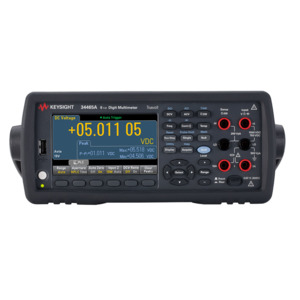 Estimated Mfr lead time:
90 Days
Description

Specifications

Documents
Resolution: 6-1/2 digits
Measure up to 1000 VDC, 750 VAC
1-year DCV basic accuracy 30 ppm
DCV, ACV, DCI, ACI, 2- and 4-Wire Resistance, Frequency, Period, Continuity, Diode, Current, Temperature
Max Reading Rate 50,000 rdgs/s
Memory 50,000 rdgs standard, 2 million rdgs with option 3446MEMU
Color graphical display with Number, Histogram, Bar Chart, Trend Chart, Math and Statistics
USB and LAN/LXI included. Optional GPIB (3446GPBU).
UL, CSA, CE
Three-year warranty
Get more insight quickly
Truevolt DMM's graphical capabilities such as trend and histogram charts offer more insights quickly. Data logging mode provides easier trend analysis and a digitizing mode for capturing transients.
Measure low-power devices
The ability to measure very low current, 1 µA range with pico second resolution, allows you to make measurements on very low power devices.
Maintain calibrated measurements
Auto calibration allows you to compensate for temperature drift so you can maintain measurement accuracy throughout your workday.
Key applications:
R&D bench tasks: component measurement, single unit characterization, bring-up of a new design, troubleshooting
Validation: develop and deploy manufacturing tests, multiple unit qualification/conformance
Manufacturing/automated test: end product functional or performance tests
Included: Power cord, USB cable, 34138A test lead set with probes and fine tip probes, SMT grabbers and mini grabber attachments, Calibration certificate.
Estimated Mfr lead time:
90 Days