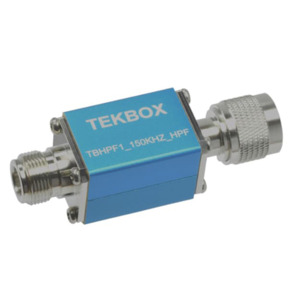 Description

Specifications

Documents
TBHPF1-150kHz High-Pass Filter
Features:
3dB bandwidth: 150kHz - 3GHz
Maximum input voltage: 100V; 250V for < 5 seconds
Maximum input current at frequencies < 150kHz and open output: 650 mA
Maximum input power at frequencies 300kHz - 1GHz: 10W
Connectors: N-Male / N-Female
Reflective, 50 Ohm
The TekBox TBHPF1-150kHz is a 150kHz high pass filter for protection of the spectrum analyzer or EMI-receiver RF inputs against high amplitude subharmonics and residual 50Hz voltage in conducted emission measurement set ups.
The TBHPF1-150kHz has a 3dB bandwidth of 150kHz to 3GHz. The maximum input voltage is 100V or 250V for less than five seconds. The maximum input current at frequencies less than 150kHz and with open output is 650mA and the maximum input power at frequencies of 300kHz to 1GHz is 10W.