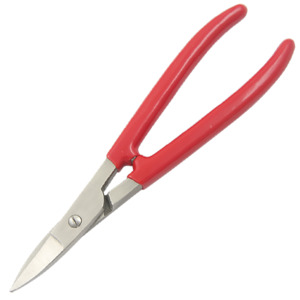 | Qty: | Price: | Savings |
| --- | --- | --- |
| 1 | $7.08 | |
| 5 | $6.73 | Save 5% |
| 10 | $6.66 | Save 6% |
| 25 | $6.58 | Save 7% |
| 100 | $6.51 | Save 8% |
| 500 | $6.30 | Save 11% |
Description

Specifications

Documents
Special stainless steel, Corrosion resistant, High tensile strength, heat-resistant.
The PVC handles feature soft, non-slip texture and are designed for repetitive use.
PVC Phthalate Free Grips as per California Proposition 65.
This shear/snip is made of stainless steel. It is useful for cutting shapes and patterns, solder sheet pieces, cutting soft and precious metals and more.

Alternate Product Number: 
10234330
Material: 
Stainless Steel
| Qty: | Price: | Savings |
| --- | --- | --- |
| 1 | $7.08 | |
| 5 | $6.73 | Save 5% |
| 10 | $6.66 | Save 6% |
| 25 | $6.58 | Save 7% |
| 100 | $6.51 | Save 8% |
| 500 | $6.30 | Save 11% |