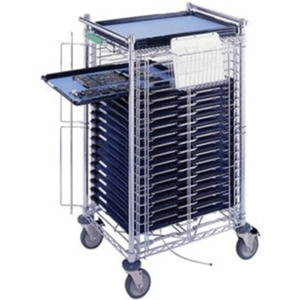 | Qty: | Price: | Savings |
| --- | --- | --- |
| 1 | $3,997.00 | |
| 3 | $3,797.15 | Save 5% |
| 5 | $3,677.24 | Save 8% |
| 10 | $3,597.30 | Save 10% |
Description

Specifications
Built-in anti-tip design
Tray's spaced every 1-3/4"

SmartTray™ system is designed to maximize productivity by minimizing PCB damage during electronics material handling applications, since the tray is handled as opposed to the PCBs. Anti-tip design allows the trays to be pulled partly out of the slots without tipping or falling out. Carts feature ESD-Safe chrome-plated finish with metrolac protective coating on shelves, posts, slides, handles and stop bars, with 5" vibration suppression casters (two brake and two swivel). Boards are stored and transported in the cart using ESD-Safe static dissipative (10⁶ - 10⁹ ohms/sq.) molded fiberglass SmartTray™ with inlays.

Includes: 
Trays and Liner Mats
Inlay Material: 
Single-Layer Vinyl
Outside Dimensions L x W x H: 
30" x 22" x 49"
| Qty: | Price: | Savings |
| --- | --- | --- |
| 1 | $3,997.00 | |
| 3 | $3,797.15 | Save 5% |
| 5 | $3,677.24 | Save 8% |
| 10 | $3,597.30 | Save 10% |