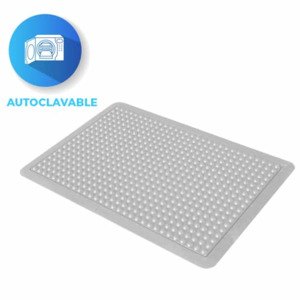 | Qty: | Price: | Savings |
| --- | --- | --- |
| 1 | $114.19 | |
| 10 | $110.76 | Save 3% |
| 20 | $108.48 | Save 5% |
| 50 | $102.77 | Save 10% |
| 100 | $100.49 | Save 12% |
Description

Specifications

Documents
The ComfortDOME anti-fatigue mat provides unparalleled comfort in sterile areas and other controlled environments.
The ComfortDOME autoclavable mat is an excellent anti-fatigue mat for sterile environments such as hospitals, surgery centers, laboratories, pharmaceutical and life science applications. The mat is made with a specially formulated rubber that is both anti-microbial and autoclavable, to ensure that all harmful pathogens are eliminated.
Clean: Autoclavable & Anti-Microbial
The ComfortDOME mat passes ISO 7218:2007 and 1:2013 (clause 5.6.2) autoclave sterilization protocol as well as ASTM G21 anti-microbial standard. Our mat withstands 52 autoclave cycles (20 minutes at temperatures of 121C /250F) with no deformations. In addition, the mat has moderate resistance to:
Mild organic and inorganic acids, salts and alkali chemicals
Animal & vegetable based oils, fats, waxes and mineral oils
Amines esters, polyols, ketones and aldehydes
ComfortDOMES
Evenly spaced ComfortDOMES on the conductive surface of the mat provides superior anti-fatigue relief because ComfortDomes get softer as compressed, not harder like products made with foam. ComfortDOMES recover/rebound more rapidly than most foam resulting in an energizing responsiveness not found in other mats.  ComfortDOMES function like a spring to return energy. The unique "air pocket" structure becomes softer as compressed. ComfortDOMES rebound instantly as weight is shifted.
Applications
Autoclavable Anti-fatigue mats pro-vides comfortable surface where flooring must be sterilized:
Hospitals
Laboratories
Research Centers
Industrial Workstations
Other controlled environments
Why Ergonomic Anti-Fatigue Mats
Ergonomic matting is designed to work with the human body to ease the tasks that the body performs. In the case of a standing work station, anti-fatigue mats are of critical importance in reducing short-term fatigue and discomfort from standing for long periods of time. These benefits also lead to real savings through increased productivity and worker moral, and decreases in sick leave, workers' compensation claims and substandard production due to operators' lack of concentration caused by fatigue.
Brand: 
Transforming Technologies
Material: 
NBR/SBR Rubber Blend
Surface Style: 
Bubble Domes
| Qty: | Price: | Savings |
| --- | --- | --- |
| 1 | $114.19 | |
| 10 | $110.76 | Save 3% |
| 20 | $108.48 | Save 5% |
| 50 | $102.77 | Save 10% |
| 100 | $100.49 | Save 12% |