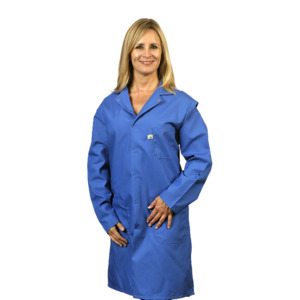 | Qty: | Price: | Savings |
| --- | --- | --- |
| 1 | $67.64 | |
| 5 | $64.26 | Save 5% |
| 20 | $60.88 | Save 10% |
| 40 | $57.49 | Save 15% |
Description

Specifications
The 371ACS is a knee-length coat made of the heavier Nylostat fabric, which is ideal for high-wear conditions or where solder-splash is a concern, and for less sensitive ESD applications. The hip-length jacket version of this garment is the 361ACS.
Application: For use in heavy soil & solder. Electrical field suppression properties
Style: 
Knee-length coat with lapel collar
Conductive Knitted Cuffs: 
No
Hip To Cuff Grounding: 
No
Fabric: 
65% Polyester, 34% Cotton and 1% Carbon modified nylon in a woven grid pattern.
| Qty: | Price: | Savings |
| --- | --- | --- |
| 1 | $67.64 | |
| 5 | $64.26 | Save 5% |
| 20 | $60.88 | Save 10% |
| 40 | $57.49 | Save 15% |