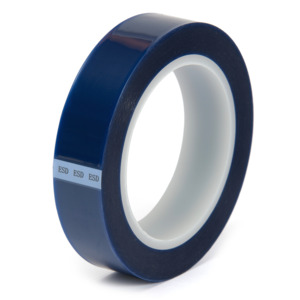 Description

Specifications

Documents
Our products under the brands Techni-Tool, Tec-Cut, Techni-Stat, and many others have merged to one brand, Techni-PRO. All the product specifications and functionality remain the same.
Prevents damage to sensitive electronics.
Durable static dissipate surface
ESD polyester tape has low peel voltage
Dimensionally stable at high temperatures
Heat, cold, solvent and voltage resistance
Features:
ESD anti-static polyester tapes are made from 1 mil thick polyester film with 1.5 mil of silicone adhesive.
They are specifically designed for use in production areas that require a static-free environment.
Common applications include printed circuit board assembly sealing, repair, and labeling of anti-static bags for circuit board and component packaging. Also used for mounting electronic components and circuit boards during testing procedures.
Tear-resistant and can be removed without leaving any residue.