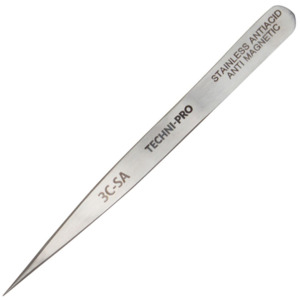 Description

Specifications

Documents
Our products under the brands Techni-Tool, Tec-Cut, Techni-Stat, and many others have merged to one brand, Techni-PRO. All the product specifications and functionality remain the same.

The Techni-Pro 3C-SA Straight very fine precision pointed tweezer is designed for work under magnification. The overall length is 4.25" and it's made of anti-magnetic stainless steel.
For applications in microelectronics, jewelry making, watchmaking, medicine and laboratory technology.
Suitable for delicate standard applications and precision work on small components or wires.
Special stainless steel, non-magnetic, non-rusting, acid-proof, heat-resistant.
Material: 
Stainless Steel