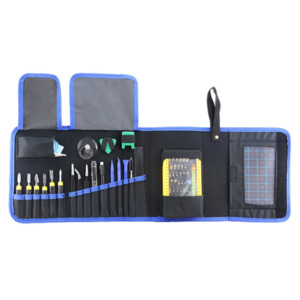 Description

Specifications

Documents
Our products under the brands Techni-Tool, Tec-Cut, Techni-Stat, and many others have merged to one brand, Techni-PRO. All the product specifications and functionality remain the same.
67-in-1 Hand Tool Sets for iPhones, smartphones, repair tools, computers, electronics repair and more.
41 different precise screwdriver bits meet multiple demands.
All bits are made of premium chrome/vanadium steel (6150#) with heat treatment.
Comes with an extension shaft which can be easily inserted into the handle for length adjustment.
The handle has an ergonomic design for convenience and efficiency.
Includes tool kit bag and tweezers for repair work.
Includes: 
41-in-1 screwdriver set: 1-magnetic pad, 1-Anti-static wrist, 1-Suction cup, 1-Magnetizer, 6-plastic metal crowbar, 3-plastic metal crowbar, 1-metal crowbar, 1-telescopic rod, 3-Anti-static tweezers, 1-utility knife, 1-metal ruler, 6-pry pick
Material: 
Cr-V steel bits and Aluminum alloy hand, plastic, stainless steel