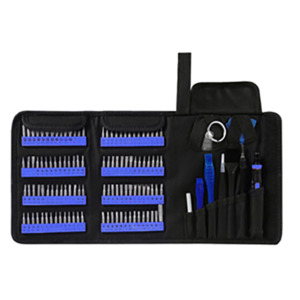 Description

Specifications

Documents
Our products under the brands Techni-Tool, Tec-Cut, Techni-Stat, and many others have merged to one brand, Techni-PRO. All the product specifications and functionality remain the same.
BEST COMBINATION: This electronics repair tool kit has 112 different screwdriver bits, solid and flexible shaft, 1/4 inch screwdriver adapter, complete pry tools set, ESD tweezers, etc.
You can fix everything electronic, such as repairing computer and laptop by yourself to protect privacy or replacing the electronics screen and battery.
Completely re-engineered to provide all the tools that you need, and none that you don't.
WIDE APPLICATION: 126-in-1 precision screwdriver set with case is a professional repair tools kit for Computer, PC, Laptop, MacBook, iMac, Tablet, iPad, iPhone, Game Consoles, PS4/Xbox Controller, Watches, Glasses, Camera and other electronics.
Whether a professional or amateur in the IT world, this electronics tool kit can easily repair phones, computers and laptops. This helpful repair kit is also as a cool gift for friends and family.
HIGH QUALITY MATERIAL: All bits are made of high quality CR-V steel by vulcanization.
It's hardness can reach over HRC 62°, which is harder than the ordinary steel material and more durable.
All standard size bits undergo rigorous quality control testing. The tip is stable and not easily stripped.
HUMANIZED DESIGN: Ergonomic and press and push design handle. It's comfortable to hold, even for long-time use.
This precision set comes with a storage bag which is made from oxford, offering a whole protection, easier storage and carrying.
Includes: 
112-piece S2 screwdriver bits, 1-PVC screwdriver handle, 1-telescopic rod, 1-extension rod, 1-Anti-static brush, 1-Anti-static tweezers, 1-plastic crowbar, 1-plastic pry tools, 1-suction cup, 6-pry pick
Material: 
S2 bits and PVC handle, Aluminum alloy, plastic, stainless steel