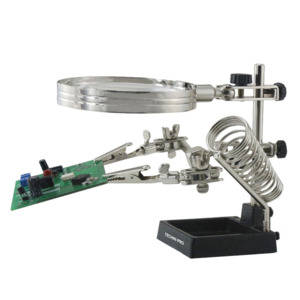 Description

Specifications

Documents
Features:
Adjust bass and socket joints with wing nuts remain in set position.
Help people with arthritis to free their hands.
This desktop magnifying glass is like the third hand, freeing your hand and allowing you to concentrate on the object you are observing.
Perfect welding work bracket, suitable for DIY handicraft, circuit board repair, clock/computer repair, craft carving, jewelry cleaning, etc.
It is a great gift idea for craft lovers, welders, jewelers, circuit board researchers, micro-project researchers, etc.
Package Contains:
1 X Auxiliary clip
1 X Soldering iron stand
1 X Magnifying glass
Material: 
Metal Aluminum Alloy Frame and Cast Iron Base. Glass Lenses
Lens Size: 
90mm / 20mm Dia.