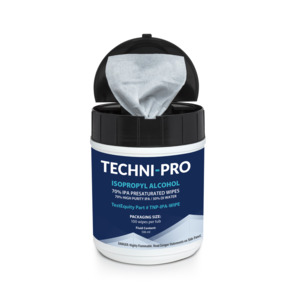 | Qty: | Price: | Savings |
| --- | --- | --- |
| 1 | $22.70 | |
| 10 | $22.02 | Save 3% |
| 20 | $21.57 | Save 5% |
| 50 | $20.43 | Save 10% |
| 100 | $19.98 | Save 12% |
Description

Specifications

Documents
70% high-purity ispropyl alcohol, 30% deionized water mix

Mild and skin-safe to use

100% VOC evaporates cleanly, no residue, no rinsing

ESD-safe

No rip, no lint, heavy duty fabric wipe - not paper

"Slam-Shut" lid keeps wipes damp by minimizing evaporation

Non-corrosive

Completely ozone-safe

Kb Value: 25 (est)

Low GWP

Flammable

Our products under the brands Techni-Tool, Tec-Cut, Techni-Stat, and many others have merged to one brand, Techni-PRO. All the product specifications and functionality remain the same.
Get easy, fast and safe cleaning in almost any production environment. Techni-Pro presaturated wipes are strong, shred-proof, disposable wipes, saturated with high-purity isopropyl alcohol and deionized water. It is well suited for cleaning medical devices, electronics, stencils, work benches, tools, production machinery, and any surface that requires hygienic grade cleaning.

Versatile, Techni-Pro wipes clean most solder pastes found on SMT stencils. It also cleans organic and ionic residues, light oils and other contaminants commonly found in the manufacture of medical devices.

Package Quantity: 
100 Per Pkg.
Wiper Material: 
Heavy-Duty Fabric
| Qty: | Price: | Savings |
| --- | --- | --- |
| 1 | $22.70 | |
| 10 | $22.02 | Save 3% |
| 20 | $21.57 | Save 5% |
| 50 | $20.43 | Save 10% |
| 100 | $19.98 | Save 12% |