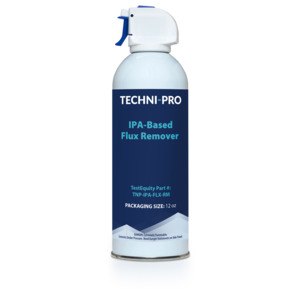 Cannot Ship Air
Calif. Prop 65
Description

Specifications

Documents
99.8% pure reagent grade isopropyl alcohol (IPA) for the purest quality cleaning

No residue / no rinsing

Mild strength is non-corrosive and safe on plastics

Kb Value: 20 (est.)

Medium drying speed

Flammable (more economical than non-flammable versions)

Mild alcohol odor

Chemical Family: Alcohol

VOC Content: 785 g/L

RoHS/WEEE/REACH/EPA SNAP compliant

Our products under the brands Techni-Tool, Tec-Cut, Techni-Stat, and many others have merged to one brand, Techni-PRO. All the product specifications and functionality remain the same.
A plastic-safe, non-corrosive, ESD-safe circuit cleaner that quickly and easily removes fluxes, pastes, light oils and grease, as well as organic residues. It is effectively used as a circuit cleaner and stencil cleaner.

This cleaner contains virtually no water and is undiluted by airborne humidity. 100% volatile, it evaporates cleanly with no rinsing required. It is safe on all materials including components, connectors, cables and elastomers.