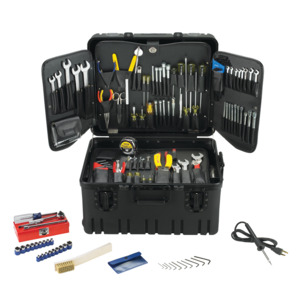 | Qty: | Price: | Savings |
| --- | --- | --- |
| 1 | $1,422.97 | |
| 2 | $1,351.82 | Save 5% |
| 3 | $1,323.36 | Save 7% |
| 5 | $1,309.13 | Save 8% |
Description

Specifications
Over 135 tools, including 42 metric. The JTK-88SP was designed for technician's who service foreign and domestic equipment, and require a wheeled, heavy duty tool case. The metric tools are stored in the winged portion of the pallet. Note: The winged pallets are not detachable. The tool case features mil-style recessed locking latches, 4 wheels, and telescopic handle.

Case Style: 
Roto-Rugged™ Wheeled Recessed Latch
Dimensions: 
17-3/4 x 14-1/2 x 10"
Dimensions [L x W x D]: 
17-3/4" x 14-1/2" x 10"
| Qty: | Price: | Savings |
| --- | --- | --- |
| 1 | $1,422.97 | |
| 2 | $1,351.82 | Save 5% |
| 3 | $1,323.36 | Save 7% |
| 5 | $1,309.13 | Save 8% |