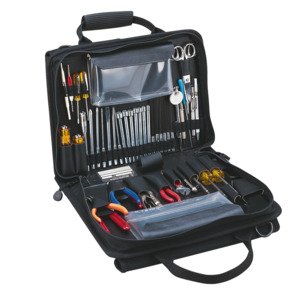 | Qty: | Price: | Savings |
| --- | --- | --- |
| 1 | $421.08 | |
| 2 | $400.03 | Save 5% |
| 5 | $378.97 | Save 10% |
Description

Specifications
Quality tool selection for trouble-shooting, service and maintenance. Fastening tools include screwdrivers, nut drivers, hex drivers and 3 torx screwdrivers ( T10, T15, T20). The black Cordura case measures 13-1/2 x 10 x 2-1/2" D rings are included for an optional shoulder strap.

Case Style: 
Single Black Cordura
Dimensions [ID] [L x W x D]: 
13-1/2" x 10" x 2-1/2"
| Qty: | Price: | Savings |
| --- | --- | --- |
| 1 | $421.08 | |
| 2 | $400.03 | Save 5% |
| 5 | $378.97 | Save 10% |