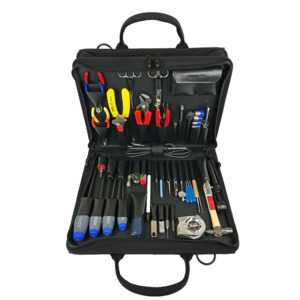 | Qty: | Price: | Savings |
| --- | --- | --- |
| 1 | $753.57 | |
| 2 | $715.89 | Save 5% |
| 5 | $678.21 | Save 10% |
Description

Specifications
Multi-functional tool selection
Includes new ergonomic tri-lobe screwdrivers
New ballistic nylon case
Jensen's JTK-47DBLB is a technician's top choice for all field service applications. The diverse tool selection features a wide range of fastening tools, along with wire cutters, pliers, solder iron, and additional tools applicable for electronics repair. Recent upgrades include new tri-lobe screwdrivers with ergonomic handles, marbled grips and blades finished in black oxide. These screwdrivers provide optimal torque and meet ASME/ANSI specifications. The exterior of the case has also been upgraded, now made of ballistic nylon for increased durability. The case's interior is manufactured using polyurethane (PU leather), adding strength and flexibility to the pockets.

Case Style: 
Double Black Ballistic Nylon
Dimensions [ID] [L x W x D]: 
16-1/4 x 12 x 4-1/2"
| Qty: | Price: | Savings |
| --- | --- | --- |
| 1 | $753.57 | |
| 2 | $715.89 | Save 5% |
| 5 | $678.21 | Save 10% |