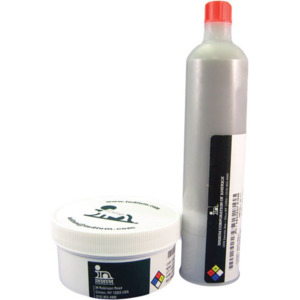 Estimated Mfr lead time:
18 Days
| Qty: | Price: | Savings |
| --- | --- | --- |
| 1 | $132.97 | |
| 5 | $120.34 | Save 10% |
| 10 | $113.69 | Save 14% |
| 50 | $106.38 | Save 20% |
Next Day Air Only
Calif. Prop 65
Description

Specifications

Documents
Low voiding on QFN, BGA, and CSP components

Exceptional head-in-pillow resistance

High transfer efficiency and low variation through small apertures (≤0.66 AR)

Eliminates the graping phenomenon

Outstanding RF shield metallization wetting
Indium Corporation's Indium10.1 Solder Paste is a Pb-free halogen-containing solder paste with the lowest levels of voiding for QFNs, BGAs, and pads with large ground planes.

The oxidation-inhibiting properties of Indium10.1 solder pastes promote industry-leading head-in-pillow and graping resistance, with complete coalescence, even after long reflow profiles. The exceptional soldering ability of Indium10.1 solder paste makes it the best solution for components with less-than-ideal solderability and challenging RF shield metallizations.

Indium10.1 solder paste enables the lowest cost of ownership to PCB assembly manufacturers through an all-around balanced performance in both high print and soldering yields. It boasts a versatile, well-balanced set of properties with best-in-class printing and soldering performance. Indium10.1 solder paste provides industry-leading print definition and transfer efficiency, low voiding performance, and head-in-pillow and graping resistance.

Alternate Product Number: 
SAC305
Halogen Content: 
Halogen Free
Estimated Mfr lead time:
18 Days
| Qty: | Price: | Savings |
| --- | --- | --- |
| 1 | $132.97 | |
| 5 | $120.34 | Save 10% |
| 10 | $113.69 | Save 14% |
| 50 | $106.38 | Save 20% |