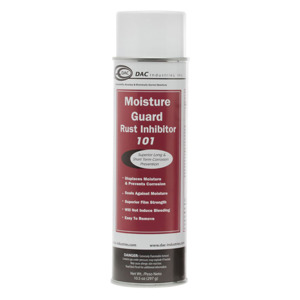 Estimated Mfr lead time:
9 Days
Description

Specifications

Documents
Exceptional water repelling qualities
Increases short and long term protection
Rapid flash time
Maximum efficiency, minimum labor
Contains no fillers, only pure active ingredients
Easily removed by flushing
Made in the USA

DAC-101 Mois­ture Guard was devel­oped to max­i­mize per­for­mance in short and long term mois­ture dis­place­ment and rust pre­ven­tion sit­u­a­tions. Rejected parts due to mark­ing is typ­i­cally caused by excess pen­e­tra­tion of prod­uct into ejec­tor pins, cams and slides. DAC-101 Mois­ture Guard elim­i­nates this prob­lem entirely due to its rapid flash time. It pre­vents run­ning or drip­ping and does not induce con­t­a­m­i­na­tion of any kind due to leech­ing or bleed­ing.

Estimated Mfr lead time:
9 Days