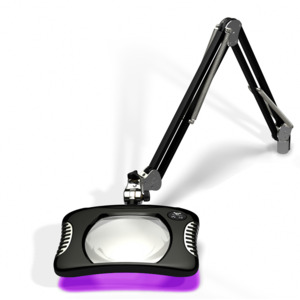 | Qty: | Price: | Savings |
| --- | --- | --- |
| 1 | $699.00 | |
| 2 | $664.05 | Save 5% |
| 5 | $650.07 | Save 7% |
Description

Specifications

Documents
4 Diopter—2x magnification

Crown White Optical Glass

12 LED array only consumes 8w on high

100-240v (50/60hz) auto switching transformer for world-wide use

Adjust three banks of LEDs with intuitive lighting controls

Die-Cast Aluminum Construction

43″ Reach (30" optional)

ESD Safe

Table Edge Clamp standard, other mounting options available

5 years / 50,000 hours pro-rated LED warranty

5 year mechanical warranty, the best in the business
Ultraviolet light reveals imperfections invisible under ordinary white lights. Seen with a UV light, dust and other contaminants show up on circuit boards, and tiny cracks and inclusions appear on metalwork. Our Green-Lite® – 7.5" x 5.25" Rectangle Combined Ultraviolet/Visible LED Magnifier allows users to view objects with either kind of light, precisely directed and brightness controlled. The lens is 87% larger than our competition's standard sized magnifier. Whichever option you choose, the results are a handsome, ESD safe tool that improves your working experience whether you're inspecting circuit boards or checking the integrity of a weld.

Superior Magnification
We offer the largest lenses in the industry. Our standard magnification is 4 diopter (2x), an O.C. White exclusive. Unlike the competition, we use only precision ground, crown white optical grade glass. As a result, this provides the highest resolution, without any green-tint, ghosting, or chromatic separation.

Brilliant Light That You Control
The Green-Lite® 7.5" x 5.25" Rectangle Combined Ultraviolet /Visible LED Magnifier includes 12 surface mounted LEDs arrayed around the lens. 6 are UV lights; 6 white lights. They can be used in tandem, or individually. These lights provide 4x the lumen output of our competitors. Their brightness and angle can be easily controlled through a back-lit button conveniently built into the magnifier's shade. Despite their stunning brightness, the LEDs are highly efficient (only consuming 8w on highest setting), and unlike bulbs, they don't need to be regularly replaced. An auto-timer shuts the lights off after four hours, if not in use.

Robust Arm & Multiple Bases
O.C. White Co. has been building industrial armatures for over a hundred and thirty eight years. Many of our older arms are valued collectors' items and still work as they did when constructed. The same robust, high-strength design is true of Green-Lite®. The extruded aluminum design provides precise movement and a lasting holding power over its full reach (choose between 30" or 43"). A table edge clamp comes standard, but several alternative bases are available. Alternately, if you need illuminated magnification in multiple locations, consider our no-tip rolling stand.

Accessories: 
AO-6D - 6 Diopter Lens, AO-8D - Diopter Lens, AO-4D - 4 Diopter Lens, 13225 Frosted Defuser Kit
Series: 
Green-Lite Series
Type: 
Combo Ultraviolet/Visible LED Magnifying Lamp
Lens: 
Crown White Optical Glass
Type of Base: 
Table Edge Clamp
Type of Illumination: 
Ultraviolet/Visible LED
| Qty: | Price: | Savings |
| --- | --- | --- |
| 1 | $699.00 | |
| 2 | $664.05 | Save 5% |
| 5 | $650.07 | Save 7% |