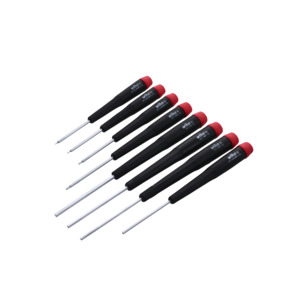 | Qty: | Price: | Savings |
| --- | --- | --- |
| 1 | $37.58 | |
| 5 | $36.83 | Save 2% |
| 10 | $35.33 | Save 6% |
| 50 | $33.07 | Save 12% |
Description

Specifications
Handle direct molded to blade for a permanent bond
Tapered handle for rapid rotation
Extra-long handle for optimal hand positions and smooth turning
Tip profile labeled on handle for easy identification
Handle sized proportionate to the blade for consistent mechanical advantage
When it comes to working on small components and modern electronics, using the best precision screwdriver is essential—Wiha Precision Screwdrivers are unrivaled. Wiha Precision Screwdrivers feature cushion-grip handles for comfort and control, and the dual durometer material is direct-molded to the blade for a permanent bond. The Precision style includes a hex profile finger grip for precise torque and a tapered handle for rapid rotation. The handles are sized proportionate to the tip and feature an extra-long smooth-turning cap for multiple hand positions. The driver tip profiles are labeled on the handle to quickly and easily identify the driver. Experience the tightest fitting precision-machined driver tips from the company that set the standard for precision. Wiha's exact-fit tips meet the highest tolerances of precision machining to eliminate fastener damage and protect delicate components.

Wiha 26391 Hex Screwdriver Set Key Features
Wiha special chrome-vanadium-molybdenum tool steel
Through hardened for best wear resistance
Corrosion protective Hard Chrome Finish
Exact Fit Precision Machined Tips
Precision machine chamfered ends
No cut off burrs or impact distortions
Precision Handle is made of high Quality cadmium free Plastic
Molded on handle for permanent bond to blade
The Tapered Shape allows rapid rotation
Handles Proportioned to Blade Size for optimum torque
Precision Turning and Control with the Rotating Cap
Drive Size: 
1/16", 5/64", 3/32", 7/64", 1/8""
Includes: 
Set Includes: .028, .035, .050, 1/16, 5/64, 3/32, 7/64, 1/8"
Material: 
Chrome Vanadium Molybdenum Steel
Warranty Information: 
Backed by the Wiha No Hassle Guarantee
| Qty: | Price: | Savings |
| --- | --- | --- |
| 1 | $37.58 | |
| 5 | $36.83 | Save 2% |
| 10 | $35.33 | Save 6% |
| 50 | $33.07 | Save 12% |