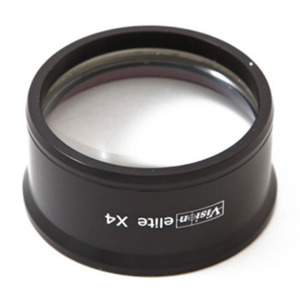 Estimated Mfr lead time:
13 Days
| Qty: | Price: | Savings |
| --- | --- | --- |
| 1 | $277.00 | |
| 2 | $263.15 | Save 5% |
| 5 | $249.30 | Save 10% |
| 10 | $243.76 | Save 12% |
Description

Specifications

Documents
Choice of counter-balanced swing arm or stable bench stand with dimmable cold, long-life true color LED illumination
Quick move G-clamp base
Cleanroom assembled and sealed for use in dirty environments
9VDC external plug transformer power supply

Vision Engineering x4 objective lens for use with the Mantis Elite stereo magnification system.

Mantis systems combine the viewing ease of bench magnifiers with the high resolution and magnification advantages of eyepiece microscopes. The large viewing area provides maximum comfort and eliminates the fatigue, eye, neck and back strain you can get from using eyepiece scopes. Wearing safety or regular glasses are no problem. Your choice of magnification options let you customize your system for any assembly, inspection or rework application.

The Mantis Elite a delivers the latest in optical design and LED illumination, and boast a wide array of applications. The Elite's higher magnification, 25° head tilt capability, extra large field of view and long working distances make it a clear choice over traditional stereo microscopes. And it frees up both hands for intricate tasks that requires quality viewing and hand-eye coordination over a long timeframe.


Brand: 
Vision Engineering
Series: 
Mantis Elite Series
LEDs: 
24 LEDs; 11,000 LUX
Estimated Mfr lead time:
13 Days
| Qty: | Price: | Savings |
| --- | --- | --- |
| 1 | $277.00 | |
| 2 | $263.15 | Save 5% |
| 5 | $249.30 | Save 10% |
| 10 | $243.76 | Save 12% |