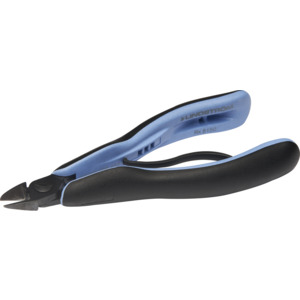 Estimated Mfr lead time:
12 Days
| Qty: | Price: | Savings |
| --- | --- | --- |
| 1 | $86.30 | |
| 5 | $84.57 | Save 2% |
| 10 | $81.99 | Save 5% |
| 50 | $79.40 | Save 8% |
Description

Specifications
Ideal for cutting leads, jewelry wire, and general assembly applications
Two-component ESD safe Ergo handles: Thermoplastic surface on tough polypropylene provides superior grip
Material: High performance alloy steel
Precision induction hardened cutting edges 63–65 HRC
Micro-Touch: The shape of the handles makes it possible to control and rotate the pliers between thumb and index finger for precision work
Precision screw joint minimizes friction and maximizes alignment of cutting edges
Biospring reduces tension throughout the working cycle of the tool and can be adjusted in three different positions
Cutting capacity is listed for solid copper wire
Burnished finish
This is the ergonomic version of the popular 8140 semi-flush cutter.Made from an advanced forging with carbon-chrome ball-bearing steel and have a cutting edge hardness of 63-65 Rockwell C. The precision ground joint and adjustable screw-nut assures uniform wear without "play" for the life of the tool. An adjustable handle spring and a series of vertical ports allows you to change the width and tension of the tool to fit your individual physical requirements. The ergonomic handle is slightly rounded and wide, creating excellent surface distribution. These tools are ideal for repetitive work as less force is needed during cutting.

Handle Type: 
Bi-Material Ergo
Cutting Wire Range: 
16-32 AWG
Wire Gauge Capacity: 
16-32
Estimated Mfr lead time:
12 Days
| Qty: | Price: | Savings |
| --- | --- | --- |
| 1 | $86.30 | |
| 5 | $84.57 | Save 2% |
| 10 | $81.99 | Save 5% |
| 50 | $79.40 | Save 8% |