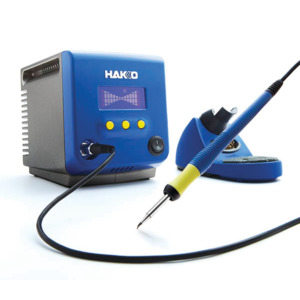 Description

Specifications

Documents
User selectable power activity display providing constant dynamic feedback to the operator about the thermal load on the soldering iron tip
T31 Series tip cartridges provide HAKKO's renowned tip life with greater power at each of the two temperature selections, (tip not included)
Password lockout prevents unauthorized system setup changes
Tip sleep function reduces tip temperature to preserve tip life and reduce oxidation when the iron is not in use
Large backlit display provides a clear and simple interface with the operator
User programmable profiles for tip and solder selection
Activity monitor provides cumulative data on tip heater loads and tip running time to aid in process control and managing operating costs
Auto-power off safety feature
Compact stackable case design minimizes the workbench footprint
Slender, lightweight, and ergonomically designed handpiece with burn resistant cord allowing for excellent operator dexterity
Meets or exceeds requirements under IPC J-STD-001, ANSDI ESD S20.20 and older MIL-STDs
RF induction heat technology at its best. Designed for fast, reliable, accurate, efficient, and ESD safe soldering. No calibration required, just turn it on and in just seconds you'll be ready to go. Boost control delivers a boost of extra power when you need it. Its compact design minimizes the workbench footprint.
The HAKKO FX-100 Soldering Station brings induction heating soldering technology to an even higher performance level. A small, compact, and very easy to use soldering station that uses an advanced system designed to optimize the output power to the soldering iron tip. With no loss of power in the form of heat within the soldering station, the FX-100 is designed for fast, reliable, accurate, and efficient soldering.
The HAKKO FX-100 Soldering Station includes an Auto Power Assist feature allowing it to recover faster and has a higher throughput than other soldering stations. Boost Mode allows for more power when needed, when working on solder joints that are grounded. The HAKKO FX-100 Soldering Station also has the lowest EMI levels of all induction heating soldering stations and meets all applicable standards, especially for those working on extremely sensitive medical and aerospace applications. The FX-100 brings the Quality, Reliability, and Power you've come to expect from HAKKO.
Additional Options for the FX100-04
FX1002-84 Micro Soldering Iron Conversion Kit
FX1002-83 Micro Soldering Iron - Handpiece Only
FX1003-84 Micro Soldering Tweezers
Tips are not included and sold separately.
T31-00 Series = 895F (480C)
T31-01 Series = 840F (450C)
T31-02 Series = 750F (400C)
T31-03 Series = 660F (350C)
Alternate Product Number: 
FX100 04, FX10004
For Use With: 
T31 Series Tips
Includes: 
FX100-04 FX-100 Soldering Station w/ FX-1001 Soldering Iron, FH800-51BY Iron Holder, B2300 Heat resistant pad, B2419 3-wire Power Cord, B5006 Yellow Soldering Iron Grip (Installed), B5007 Green Soldering Iron Grip, B5008 Gray Soldering Iron Grip, Instruct
Lead Free Solder Compatible: 
Yes
Length: 
7.5" W/T31-02D24 Tip
Temperature Range: 
660/750/840/895 F (350/400/450/480 C)
Type: 
High Frequency Induction
Dimensions: 
5.0 x 5.9 x 6.6 in.
Frequency Rating: 
13.56 MHz
Temperature Accuracy: 
2 F (1.1C)