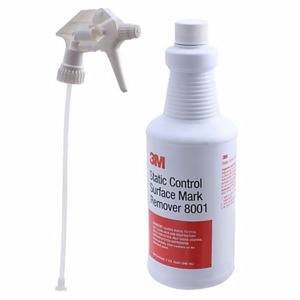 Description

Specifications
Leaves no tacky residue.
Fresh clean scent.
The 3M Static Control Surface Mark Remover 8001 is an extra strength fluid that is designed to remove ordinary dirt and grime as well as difficult spots and stains from all types of static control surfaces.
Unlike many cleaning products, the 3M Static Control Surface Mark Remover 8001 is not corrosive, per FTMS 101C, Method 3005, and leaves no tacky residue that attracts dirt, attacks delicate parts, or increases the contact resistance of the surface. It is a clear, colorless, homogeneous, water-based liquid that contains detergents, conditioners and other cleaning additives and has a fresh, clean scent.
3M laboratory tests have proven the cleaner to be an excellent topical antistat, maintaining a consistent surface resistivity (1x1011 ohm/square) over extended periods in both normal (55% RH) and dry (13% RH) environments. Simply spray on any washable surface and wipe off with a clean cloth or sponge — no rinsing required. The cleaner is designed to be used full-strength and supplied in handy quart spray bottles.

Alternate Product Number: 
7000006531
Container Type: 
Spray Bottle