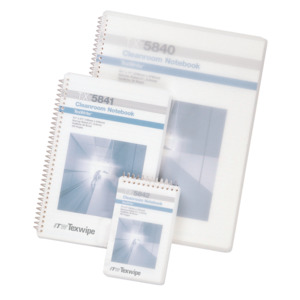 Estimated Mfr lead time:
31 Days
Description

Specifications
White, college ruled TexWrite® 22 cleanroom bond
100 writable pages (50 sheets)
Spiral binding
High-density polyethylene covers
IPA resistant, low-sodium inks
Ultraclean with low particle and fiber generation
Fully rotating pages with ability to lay flat
Chemical resistant cover material
Low ionic contamination
TexWrite® spiral-bound notebooks are an economical choice for note taking and data recording in the cleanroom. The notebooks feature high-density polyethylene covers, plastic spirals and durable TexWrite® latex-impregnated cleanroom paper. Pages are printed with IPA resistant, low-sodium ink for reduced ionic contamination. Notebooks lie flat and pages rotate freely for ease of use.

Estimated Mfr lead time:
31 Days