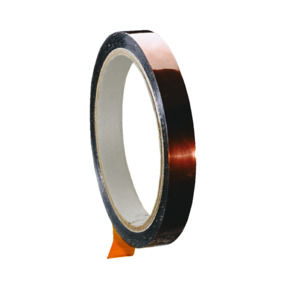 | Qty: | Price: | Savings |
| --- | --- | --- |
| 1 | $13.25 | |
| 10 | $12.99 | Save 2% |
| 30 | $12.59 | Save 5% |
| 100 | $12.19 | Save 8% |
Description

Specifications

Documents
Designed to minimize the effect of static during stripping and peeling
Offers optimal performance in electrical and thermal insulation
Mask for printed circuit boards
Highly resistant to heat and chemicals
Thin and highly conformable
Puncture and tear resistant at high temperatures
This Kapton anti-static treated polyimide backing and silicone adhesive tape offers outstanding thermal resistance and provides excellent electrical insulating properties.
This tape is used in applications where toughness, puncture resistance, and extreme resistance to heat are required.
Withstands temperatures up to 500°F (260°C)
Designed to minimize the effect of static during stripping and peeling processes. Acting as a mask for printed circuit boards during wave solder or solder dip processes. Serving as a release surface in the fabrication of parts cured at elevated temperatures.
| Qty: | Price: | Savings |
| --- | --- | --- |
| 1 | $13.25 | |
| 10 | $12.99 | Save 2% |
| 30 | $12.59 | Save 5% |
| 100 | $12.19 | Save 8% |