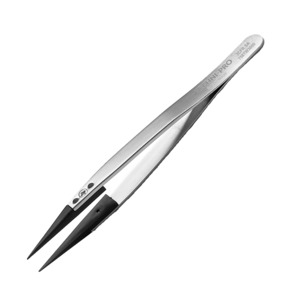 Estimated Mfr lead time:
37 Days
| Qty: | Price: | Savings |
| --- | --- | --- |
| 1 | $31.62 | |
| 10 | $30.99 | Save 2% |
| 25 | $30.51 | Save 4% |
| 50 | $30.04 | Save 5% |
Description

Specifications

Documents
Our products under the brands Techni-Tool, Tec-Cut, Techni-Stat, and many others have merged to one brand, Techni-PRO. All the product specifications and functionality remain the same.
Plastic replaceable tip tweezers
Pointed head with fine and thin tips
Carbon Fiber reinforced ESD Plastic
Non-magnetic Stainless Steel
Good corrosion resistance to most chemicals, salts and acids
Perfect tip geometry with precision tip symmetry and balance
Non-scratching Plastic tips
Laser welded tail to grant parallelism and long life
Type 3CF Plastic replaceable tip tweezers are suitable to applications which require holding a small component firmly. The Carbon Fiber reinforced ESD Plastic provides the tweezers with ESD and non-scratching properties.


Why Carbon Fiber Tip Tweezers?
Carbon fiber tip tweezers combine the precision of metal tweezers and the softness of plastic tweezers. They cost more than other tweezers, but expensive and delicate components require special handling. Heat Resistance 464°F/240°C.
PEEK tip tweezers are very hard with a very high wear resistance. Heat resistant to 260-300°C. Excellent resistance to chemicals and aggressive agents and excellent resistance to thermal aging.

Quick Change Tip Tweezers
Specifically designed for the electronics industry, these ESD-safe tweezers are made of anti-magnetic, anti-acid stainless steel with replaceable tips. 4.25" OAL (125mm).


Techni-Pro 758TW3000 Tweezers Datasheet
Alternate Product Number: 
3CFR.SA, 3CFR.SA.1
Material: 
Anti-Acid Anti-Magnetic Stainless Steel
Point Style: 
ESD-Plastic Fine
Type: 
Plastic Replaceable Tip Tweezers
Handle Material: 
Stainless
Special Features: 
Anti-acid
Tip Material: 
Carbon Fiber
Estimated Mfr lead time:
37 Days
| Qty: | Price: | Savings |
| --- | --- | --- |
| 1 | $31.62 | |
| 10 | $30.99 | Save 2% |
| 25 | $30.51 | Save 4% |
| 50 | $30.04 | Save 5% |