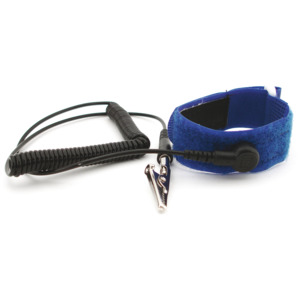 | Qty: | Price: | Savings |
| --- | --- | --- |
| 1 | $8.36 | |
| 20 | $8.19 | Save 2% |
| 50 | $7.94 | Save 5% |
| 100 | $7.52 | Save 10% |
Description

Specifications

Documents
Our products under the brands Techni-Tool, Tec-Cut, Techni-Stat, and many others have merged to one brand, Techni-PRO. All the product specifications and functionality remain the same.

Techni-Pro's hook & loop adjustable wrist strap sets feature a 1″ wide material has a insulating outer area and a 3/4″ conductive area on the inside.
The D-ring style latching system adjusts to fit any size.
Material: 
Hook & Loop Band with Inner Conductive Ribbon
Type: 
Wrist Strap, with Grounding Cord
Wearable Size: 
Adjustable
Closure Type: 
Hook & Loop
Cord and Snap Included: 
Yes
Includes Wrist Strap: 
Yes
Compliant Specifications: 
Meets or exceeds any one or combination of the following: ANSI/ESD S1.1, ANSI/ESD S6.1, ANSI/ESD STM9.1, ESD SP9.2, ESD TR53, ANSI/ESD STM971.1-2
Wrist Strap and Ground Cord Included: 
Yes
| Qty: | Price: | Savings |
| --- | --- | --- |
| 1 | $8.36 | |
| 20 | $8.19 | Save 2% |
| 50 | $7.94 | Save 5% |
| 100 | $7.52 | Save 10% |