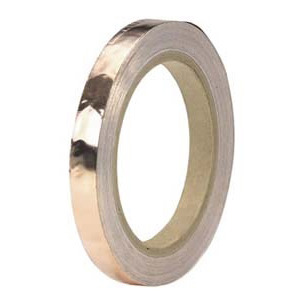 | Qty: | Price: | Savings |
| --- | --- | --- |
| 1 | $123.46 | |
| 5 | $119.76 | Save 3% |
| 10 | $117.29 | Save 5% |
| 20 | $111.11 | Save 10% |
Description

Specifications

Documents
Our products under the brands Techni-Tool, Tec-Cut, Techni-Stat, and many others have merged to one brand, Techni-PRO. All the product specifications and functionality remain the same.
This copper foil conductive tape is used to meet a variety of EMI/RFI shielding applications and as an add-on for plating bars and gold fingers
It comes with a liner for easy die cutting
Suitable for a very broad range of industrial and electrical applications
Aggressive acrylic adhesive (Conductive or Non-conductive)
Excellent shielding effectiveness Malleable copper foil backing
Backing material is a 1 oz. roll copper foil
Electrical resistance is 0.005Ω/in sq.
Made in the USA
Adhesive Type: 
Acrylic, Conductive
Backing Material: 
Copper Foil
Tensile Strength: 
35 lb./in.
Operating Temperature: 
155°C
| Qty: | Price: | Savings |
| --- | --- | --- |
| 1 | $123.46 | |
| 5 | $119.76 | Save 3% |
| 10 | $117.29 | Save 5% |
| 20 | $111.11 | Save 10% |