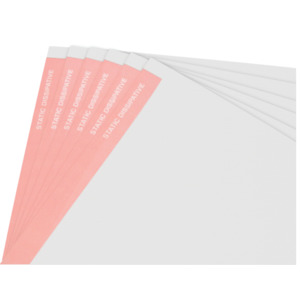 Estimated Mfr lead time:
26 Days
Description

Specifications

Documents
Our products under the brands Techni-Tool, Tec-Cut, Techni-Stat, and many others have merged to one brand, Techni-PRO. All the product specifications and functionality remain the same.
8.5" x 11"
Light red stripe on edge with white ESD safe logo
High tear and tensile strength
Ultra low particulation
Resistivity @ 50% RH (5 x 10⁷)
Resistivity @ 20% RH (6 x 10⁹)
Designed to reduce particulation and smudging. Ideal for controlled environments such as clean rooms and other static free zones. Lays flat and works great in mechanical printing machines.

Estimated Mfr lead time:
26 Days