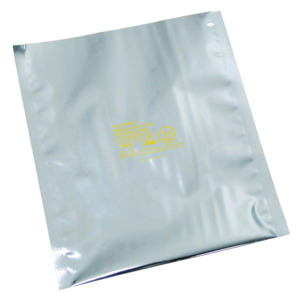 | Qty: | Price: | Savings |
| --- | --- | --- |
| 1 | $8.16 | |
| 20 | $8.00 | Save 2% |
| 50 | $7.75 | Save 5% |
| 100 | $7.34 | Save 10% |
Description

Specifications

Documents
Our products under the brands Techni-Tool, Tec-Cut, Techni-Stat, and many others have merged to one brand, Techni-PRO. All the product specifications and functionality remain the same.

Techni-Pro's flexible multi-layer laminated material for packaging of ESD sensitive devices.
3-Layer construction with static dissipative coating
Static Shielding <15 nJ
Light Transmission 40%
Puncture Strength 10 lbs per FTMS 101C, Method 2065.1
Dissipative inner and outer surfaces per ANSI/ESD STM11.11
Material: 
Polyester, Vacuum-metallized Aluminum, Polyethylene
Package Quantity: 
100 Per Pkg.
Type: 
Static Shielding Bag
Tensile Strength: 
MD > 5,000 / TD > 5,000 psi
Surface Resistivity: 
Inner/Outer < 1.0x10¹¹ ohms
Compliant Specifications: 
Meets ANSI/ESD S20.20 and IEC 61340-5-1, Packaging standards ANSI/ESD S541 and IEC 61340-5-3, and Static Control Bag ANSI/ESD S11.4 Level 3
Decay: 
< 0.5 sec (12% RH, +/-5KV to 0V)
Temperature: 
Heat Seal: 250°F -375°F, 0.5-3.5 sec, 30-70 PSI
| Qty: | Price: | Savings |
| --- | --- | --- |
| 1 | $8.16 | |
| 20 | $8.00 | Save 2% |
| 50 | $7.75 | Save 5% |
| 100 | $7.34 | Save 10% |