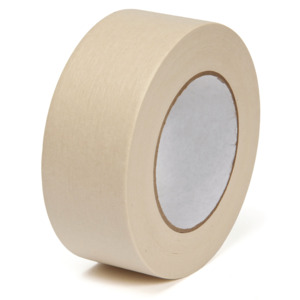 | Qty: | Price: | Savings |
| --- | --- | --- |
| 1 | $29.91 | |
| 10 | $29.31 | Save 2% |
| 30 | $28.41 | Save 5% |
| 100 | $27.52 | Save 8% |
Description

Specifications

Documents
Our products under the brands Techni-Tool, Tec-Cut, Techni-Stat, and many others have merged to one brand, Techni-PRO. All the product specifications and functionality remain the same.
High performance grade, very high temperature industrial masking tape
Leaves no adhesive residue
Exhibits excellent quick stick properties
Provides clean, flat edges and outstanding adhesion to metals, rubber, plastics, and fiberglass
Demonstrates excellent adhesion to both tape backing and masking papers with a smooth unwind
Designed for use in the high transportation industry, including applications in auto, coaches, buses, and marine environments. Ideal for various tasks such as metal preparation, painting, coating, and gel coat masking. Frequently used for EPEM (Electrical, Plumbing, and Mechanical) applications and rubber insulation protection.
Size: 
2" x 60 Yards - 3" Core
Type: 
High Temp Masking Tape
Backing Material: 
Crepe Paper
Operating Temperature Range: 
7 to 180°C
| Qty: | Price: | Savings |
| --- | --- | --- |
| 1 | $29.91 | |
| 10 | $29.31 | Save 2% |
| 30 | $28.41 | Save 5% |
| 100 | $27.52 | Save 8% |