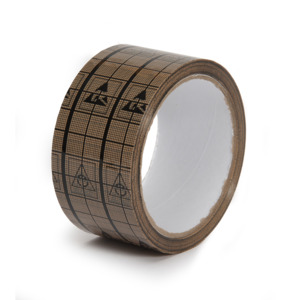 | Qty: | Price: | Savings |
| --- | --- | --- |
| 1 | $11.03 | |
| 10 | $10.81 | Save 2% |
| 30 | $10.48 | Save 5% |
| 100 | $10.15 | Save 8% |
Description

Specifications

Documents
Our products under the brands Techni-Tool, Tec-Cut, Techni-Stat, and many others have merged to one brand, Techni-PRO. All the product specifications and functionality remain the same.
Techni-Pro's Conductive Grid Tape combats electromagnetic interference (EMI)
EMI can cause electronic components to malfunction and affect performance
Exposed pins and leads on a PCB act as antennas and pick up EMI from the environment
Conductive Grid Tape shields EMI-sensitive components from electromagnetic interference
The tape consists of a thin conductive grid sandwiched between two layers
The outermost layer is a low charging clear cellophane
The adhesive used is specially formulated to have low charging properties
The conductive grid serves as a Faraday cage, protecting against static fields and shielding against electromagnetic energy.
Produces very little charge when peeling and stripping from board level components.
Material: 
3 Layer Copolymer
Tensile Strength: 
270N/mm sq.
Adhesion Strength: 
66 oz./in.
Compliant Specifications: 
ANSI/ESD S549
Temperature: 
140 F (60 C)
| Qty: | Price: | Savings |
| --- | --- | --- |
| 1 | $11.03 | |
| 10 | $10.81 | Save 2% |
| 30 | $10.48 | Save 5% |
| 100 | $10.15 | Save 8% |