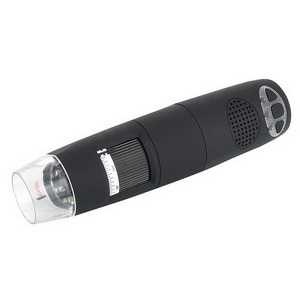 | Qty: | Price: | Savings |
| --- | --- | --- |
| 1 | $381.81 | |
| 2 | $362.72 | Save 5% |
| 5 | $343.63 | Save 10% |
| 10 | $335.99 | Save 12% |
Description

Specifications

Documents
Our products under the brands Techni-Tool, Tec-Cut, Techni-Stat, and many others have merged to one brand, Techni-PRO. All the product specifications and functionality remain the same.
Techni-Tool Visio-L Long Working Distance WiFi Microscope
See the smallest details of your work right on your smartphone, tablet, or computer! Ideal for a variety of analysis and inspection applications, this WiFi and USB-compatible long working distance microscope features a high-definition microscopy lens, adjustable magnification from 10x to 160x, and a photo/video resolution of 1.3MPx - 1280x1024, 640x480, 320x240. Has a manual focus range of 8mm to 450mm, with 30fps frame rate and wireless transmission range up to 5m. Includes 8 adjustable white LEDs and Li-Ion battery, and features a soft grip. Great for industrial inspection, computer parts inspection, educational applications, medical analysis, printing inspection and more. Compatible with Windows, Mac OSX, iOS and Android platforms. Includes mini USB cable.




| Qty: | Price: | Savings |
| --- | --- | --- |
| 1 | $381.81 | |
| 2 | $362.72 | Save 5% |
| 5 | $343.63 | Save 10% |
| 10 | $335.99 | Save 12% |