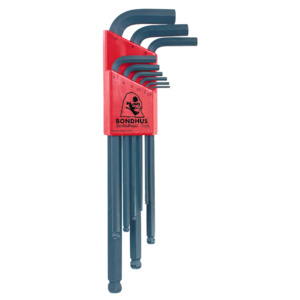 Estimated Mfr lead time:
14 Days
Description

Specifications

Documents
Our products under the brands Techni-Tool, Tec-Cut, Techni-Stat, and many others have merged to one brand, Techni-PRO. All the product specifications and functionality remain the same.
Ballpoint on end of long arm and standard hex on short arm of L-keys. Ball head slides easily into socket and can drive or loosen from an angle of 25% off-axis. Model BLX9MM includes: 1.5, 2, 2.5, 3, 4, 5, 6, 8, and 10mm.

Includes: 
(9) Ball End Hex Keys
Material: 
High Torque Steel
Estimated Mfr lead time:
14 Days