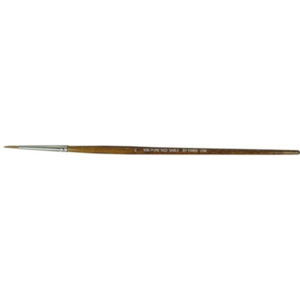 | Qty: | Price: | Savings |
| --- | --- | --- |
| 1 | $9.54 | |
| 20 | $9.35 | Save 2% |
| 50 | $9.06 | Save 5% |
| 100 | $8.59 | Save 10% |
Description

Specifications

Documents
Our products under the brands Techni-Tool, Tec-Cut, Techni-Stat, and many others have merged to one brand, Techni-PRO. All the product specifications and functionality remain the same.
This pure red sable round artist's brush is excellent for precision work and applying smooth brush strokes.
Complete with a round brush shape, corrosion-resistant nickel-plated ferrule and a lacquered wooden handle.
This size 2 brush has a 0.433" trim with a 0.079" diameter, and an overall length of 7".
This high-quality, natural-fiber brush is springy and soft.
Bristle Material: 
Sable Hair
| Qty: | Price: | Savings |
| --- | --- | --- |
| 1 | $9.54 | |
| 20 | $9.35 | Save 2% |
| 50 | $9.06 | Save 5% |
| 100 | $8.59 | Save 10% |