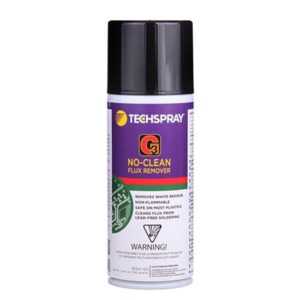 | Qty: | Price: | Savings |
| --- | --- | --- |
| 1 | $35.99 | |
| 10 | $35.27 | Save 2% |
| 50 | $34.19 | Save 5% |
| 100 | $33.11 | Save 8% |
Description

Specifications

Documents
TechSpray Flux Remover
Removes no-clean and rosin-based residues off printed circuit boards in electronic repair and production.

G3- Very strong cleaner, most economical non-flammable.

RoHs Compliant

Features:
• Type: 1634 G3 - No Clean
• Cleaning Strength: Best
• Plastic Safe: Better
• Ozone Safe: Yes
• VOC (EPA): 60%wt
• Toxicity (TLV): 200 ppm
• Residue-Free: Yes

• Residues Cleaned:
• Rosin Based: Better
• No-Clean: Best


• Cleaning Methods:
• Vapor Degreasing: No
• Ultrasonics: No
• Size: 12 oz Aerosol

Hazardous materials must be shipped by ground, and are non-refundable and non-returnable.

| Qty: | Price: | Savings |
| --- | --- | --- |
| 1 | $35.99 | |
| 10 | $35.27 | Save 2% |
| 50 | $34.19 | Save 5% |
| 100 | $33.11 | Save 8% |